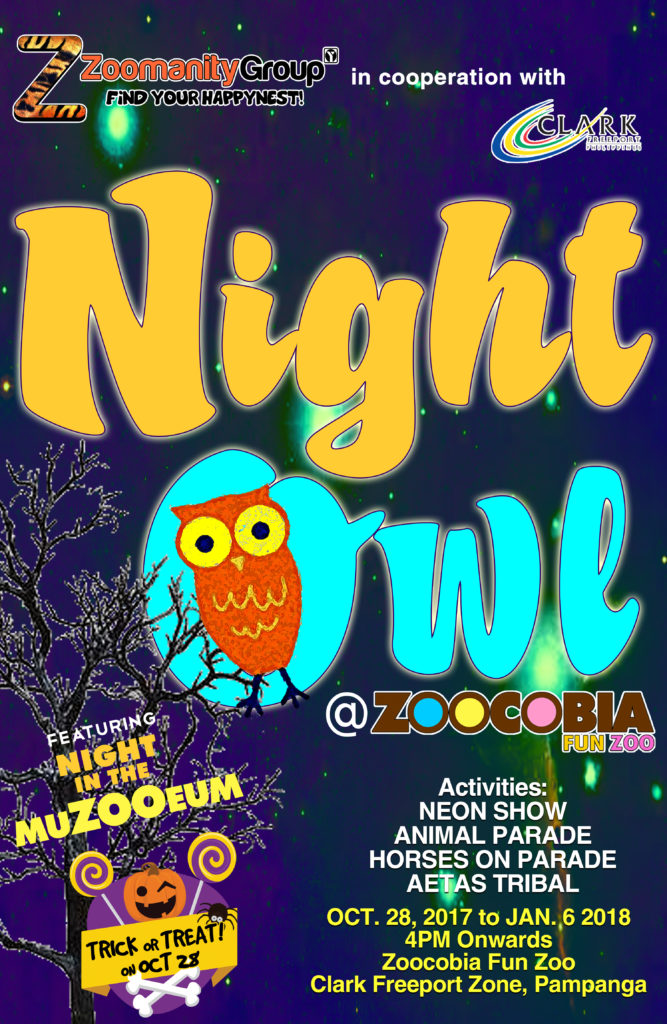 One "NIGHT OWL" in ZOOCOBIA FUN ZOO
"Come on, baby, come on". Give your family a wonderful and exciting summer experience in Zoocobia Fun Zoo. Join the mysterious and fascinating event called the "Night Owl". Come and enjoy a terrific afternoon full of fun and games, animal show and loads of surprises every Saturday starting from October 28 until January 6, 2018.
Watch the incredible performance of Aeta's showing their culture and history. Be mesmerized by the astounding LED light show presenting animal education and environmental conservation. Enjoy the cute and magnificent animals demonstrate their talent and uniqueness in animal show and parade.
See Zoocobia's amazing latest attractions Zing, ZipLine, Camel Ride, 4X4 Extreme Ride and Mango Camp. Zoocobia is a fun zoo theme park located in Clark, Pampanga. It offers a variety of interesting and enjoyable activities and attractions including the first gravity car ride in the Philippines called the Zooc Ride. It is suitable for all ages and will surely give you a thrilling experience. Other attractions also include the Maze, Zoocology Museum, The Barn, Giant Slides and Birds of Paradise, a close encounter with different colourful birds nestled on tree branches.
It's really a BIG "O"wesome season for Zoocobia Fun Zoo, so if you want to experience these remarkable events or have questions, feel free to call us to 898-3695/8999828/08 or visit our website at www.zoomanity.com.ph.