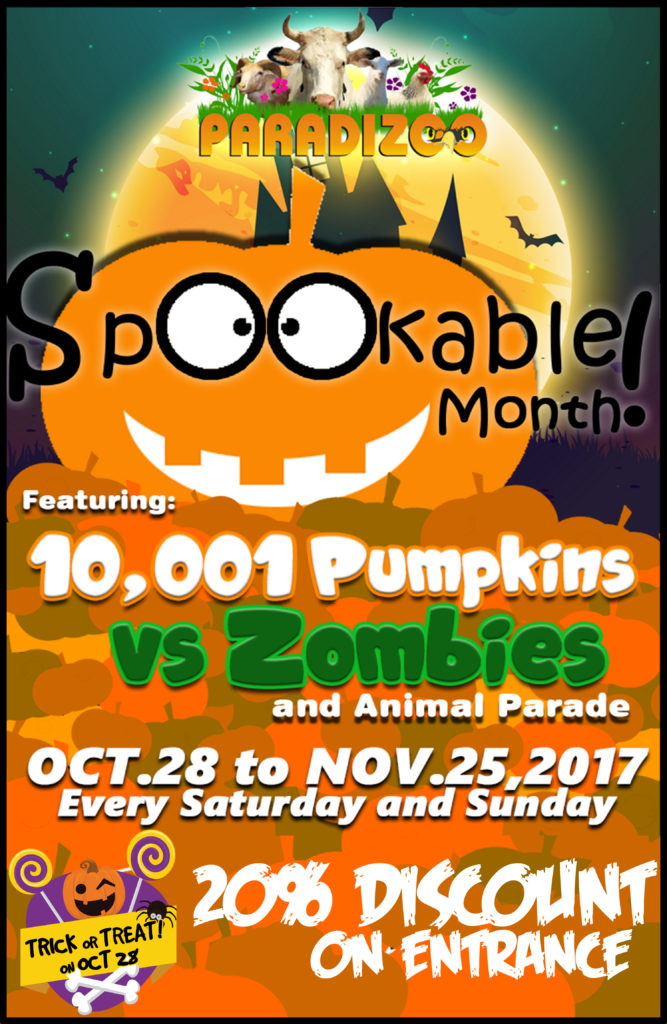 PEEK-A-BOOO!
It's a SPOOKABLE MONTH in PARADIZOO
Surprise! Halloween season is back. Get on track and spend a memorable Halloween experience in Paradizoo. It's time to get thrilled, shocked and amazed. Enjoy the "10,001 Pumpkins VS Zombies" and animal parade every Saturday and Sunday from October 28 to November 25, 2017.
Paradizoo is a majestic get away theme park in Mendez, Cavite that offers a combination of Paradise and Zoo. It is a stunning haven of farm and garden offering you a breath-taking beauty of flora and fauna. Feel the peacefulness and tranquillity of this wonderful sanctuary and get a chance to interact with different interesting animals such as llama, camels, miniature horses, ostriches and albino carabao. Cuddle and buy some loveable pets like rabbits, hamsters and love-birds in Farm Frenzy. And select vegetables and flowers from garden plots to take home in Plant Me Home area.
Another Paradizoo's very interesting attractions are Meditation Garden, Wedding Pavilion and Boot Camp. Celebrate the most special days of your life, have a long lasting and remarkable memory in this amazing place as they soon cater venue for events like birthdays, christenings and weddings.
Watch out also for a one big launching of Paradizoo's latest state of the art Greenhouses which apply the Best Practices in agriculture especially in farming like vermiculture, bokashi soil, hydrophonics and more. Paradizoo will soon open a Learning Institute accredited by DA-ATI.
Want to experience an enjoyable and relaxing Halloween, feel free to call us to 898-3695/8999828/08 or visit our website at www.zoomanity.com.ph.