Zoobic Safari is the Only Tiger Safari in the Philippines located in the heart of the forest of Subic Bay Freeport Zone.
It is a 25 hectare forest adventure park where guest are treated to an exciting adventure. Far from the conventional zoo / themepark, Zoobic gives you a chance to meet these wonderful animals up close and personal, promote awareness and concern for their species thru education/information given by our competent Tour Guides, a unique avenue to commune with nature and most of all, experience an adventure like no other here in the country: A close encounter with the biggest members of the cat family.
This may very well be the closest thing to a real animal jungle safari around here in the country.
Group 1 Ilanin Forest, Forrest Adventure, Subic Bay Freeport Zone
Park is now OPEN. Mondays to Sundays 8am to 4pm
(047) 252-2272
(63) 9661938965
Email : zoomanityonline@gmail.com
₱895/ adult
₱795 / child 3ft-4ft
Free of Charge 3 ft below
*with ₱200 voucher (consumable)
It is a 2 ½ hour tour that covers its attractions.
Zoobic Park
A special petting zoo and animal observation area set in a tropical jungle environment. Meander through and interact with, pet and enjoy displays of a diverse array of animals from many regions of the world. Many of these animals have become acclimated and friendly to human beings and are free and roaming amidst the visitors. You are free to reach-out and pet many of these animals. Here you will find deer, ostriches, albino caribou, a bear, monkeys, an eagle, miniature houses, ducks bearcats, guinea pigs, ferrets, and much more.
Tiger Safari

See the amazingly-long and sharp tiger-canine teeth so close to you that you actually feel the fear and excitement of these ferocious hunters. Thrill as a 400 pound tiger easily jumps on top of your safari vehicle while he eats a whole chicken. A once in a lifetime adventure experience riding in a safari jeep were you will enter in a c close fence structure and be fascinated to see the live tigers roaming around as they thrilled you with their vibrating growl.
Croco Loco

Here you will find a pit of over 200 crocodiles. Walk over the steel grated walkway with the snapping monster directly below you. Here you can purchase a quarter chicken, dangle it on a fishing pole for the Crocs to snap away from your line. Then walk down to the Crocodile Café where you can view the quick-snappers from a water-level glass observation area while you snack on some goodies.
Serpentarium

Get a close-up view of reptiles small and large. See snakes from around the world from the simple king snake to some huge pythons and boa constrictors. Also included here are lizards, iguanas, monitor lizards, turtles, and other cold-blooded creatures are available for viewing.
Tiger Close Encounter & Lion Close Encounter

See the kings of the jungle and the largest animal in the cat family up close in their own sleep and rest area. Walk around with just inches away from these amazing wild animals. Rawrrr!!
Shows
Witness the talent of different animals in action and parade.
Every weekend (10:30 am/ 1:30 pm)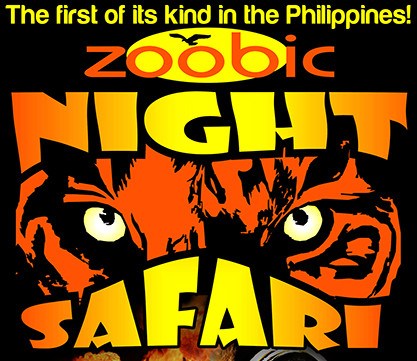 Discover your braver side and tour around this exotic sanctuary at night, the first of its kind in the Philippines.

Gear up your nocturnal senses and prepare for a series of roaring nights of fun in visiting Zoobic Safari's classic attractions, Serpentarium; a wild encounter with snakes, lizards and iguanas, Zoobic Park, a walk-through petting zoo, Tiger Safari, an enclosed safari jeep ride that will take you to the tigers' natural habitat, Croco Loco, a crocodile lair where you will have a chance to feed them.

Also included in Zoobic Safari's amazing attractions are Lion Safari, Zoobic Cave and Forbidden Cave. Packed with more thrill and excitement, discover your braver side and tour around this exotic sanctuary at night.
OTHER THINGS TO EXPECT:
Enjoy a different and bolder show specially prepared for the night's entertainment; expect an explosive presentation that will surely growl your mind away.

Greyhound Walk

Take a walk together with the greyhound dogs and follow the night trail. Get a glimpse of these interesting animals full of energy and go gaga for it is already their playtime.

Enchanting Forest

Enter a majestic forest at night. Follow the trail and discover a new world filled with interesting stories and secrets.
*Operational Every Saturday from October to January and March to May.
Rates Entrance Only:
₱895/ adult
₱595 / child 3ft-4ft
Free of Charge 3 ft below
*with ₱200 voucher (consumable)