ZOOMANITY-YUPANGCO GROUP WON IN APEA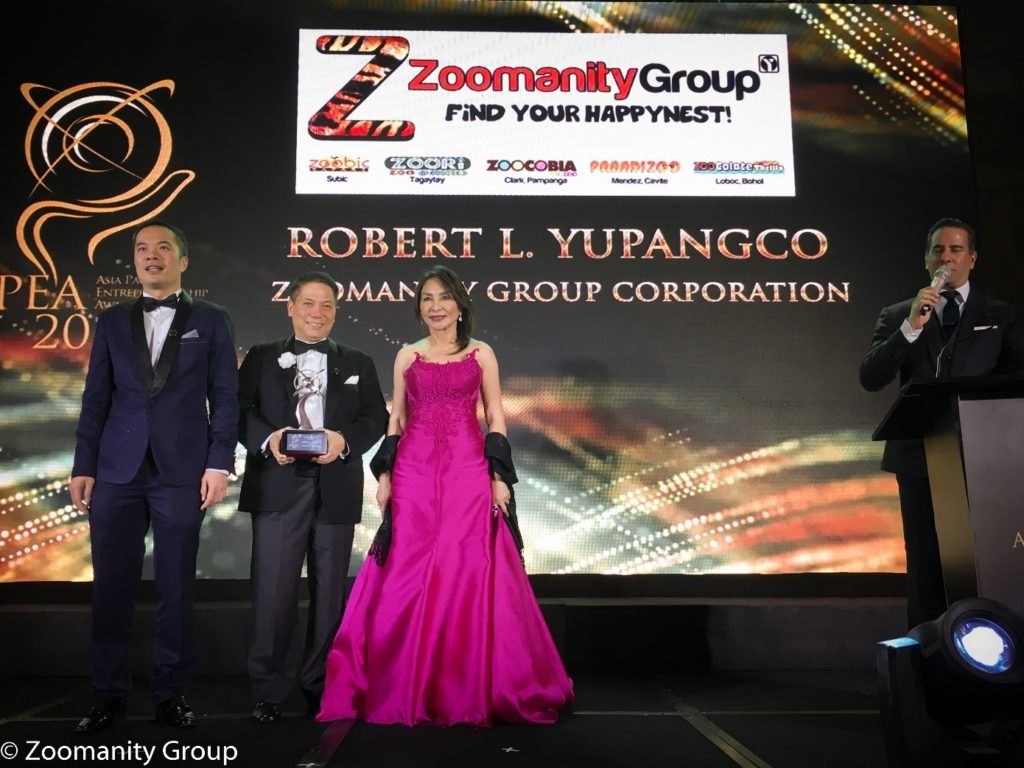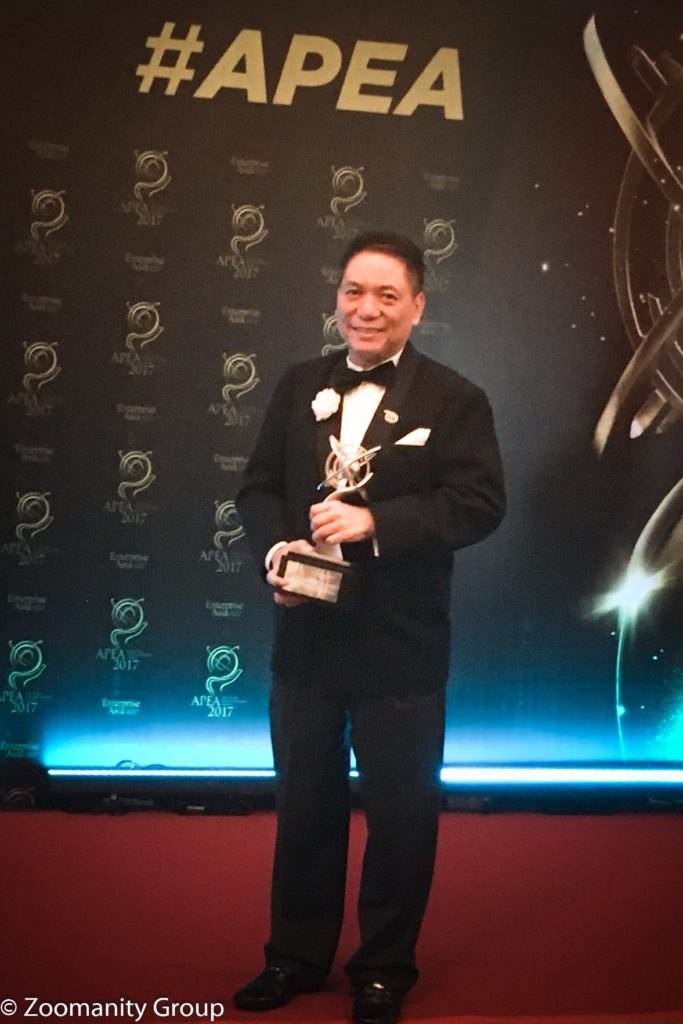 Robert L. Yupangco (RLY) of Zoomanity - Yupangco Group won in Asia Pacific Entrepreneurship Awards (APEA) 2017 recently held at Makati Shangri-la Hotel. APEA is the most prestigious award for entrepreneurship in Asia and Pacific Region given to business leaders for their outstanding leadership and entrepreneurial excellence in a specific field.
Asia Pacific Entrepreneurship Award (APEA) for Tourism, Hospitality and Food Service was awarded to Mr. Robert Laurel Yupangco (RLY), President / CEO of Zoomanity- Yupangco Group for his exceptional contribution in the tourism and hospitality business sector.Through his knowledge and experience, RLY established the foundations of Yupangco Group such as Yamaha School of Music, Sound Publishing Corporation, YL Development (Real Estate), Yupangco Electronics Corporation and YL Finance Corporation (micro financing, consumer financing and remittance services) with the help of his siblings and his mother who is the matriarch of the family.
From music and finance sector, RLY saw the potential in tourism and hospitality industry, he expanded and build Zoomanity Group Corporation. With almost 2 million visitors per year it is considered as one of the leading companies in zoos and theme park industry with 8 local and international parks namely, Zoobic Safari in Subic, Zoori (Zoo at Residence Inn) in Tagaytay, Paradizoo Theme Farm in Mendez Cavite, Zoocobia Fun Zoo in Clark, Pampanga, Zoocolate Thrills in Bohol, Zootopia in Nagano, Japan and Animal Conservation and Breeding Center in Australia.
Having an extensive experience in developing and managing companies in tourism, farming and hospitality sector, he is now called "The Modern Day ZOOper Man" who has a vision of creating the Philippines as "One Big Green Resort and Theme Park", a complete tourism ecosystem that provides not just zoo tourist destinations but also tourism hospitality services such as hotels, restaurants and transportation.
He engages now in putting up different restaurants under Chefmate Corporation that operates the following: Jinsei Sushi Bar, Misono Teppanyaki Restaurant, Nanten Japanese Restaurant, Midori Japanese Restaurant, Samgyupsalamat by Korean Alley, Korean Lane Development Corporation, Unli City (Unlimited Meals) and Ruins City Garden. These restaurants offers fresh, wild and sustainable seafood that are distributed with the help of Alaska Seafood Philippines and Seaking Seafood Products/ Super Catch Inc.
RLY also take part in transportation industry thru his various motor projects under Zoomanity Wheelz that offers Vans, Coaster, Tram Rentals, Pitbull, Multi cabs, Pitcabs Golf cars, Zooper Cars and Chartered Bus transport and services thru his partner Bel Air Bus Charter Corporation.
RLY quoted Peter Draker's sayings "Our business is simply Marketing and Innovation." He is now also involve in developing innovative products in different sectors. In agriculture, a multi-million greenhouse project with Calata Group Corporation is in the pipeline. In entertainment sector, Modi, an all in one entertainment device is now launched in the market, a partnership project with Modtech Global. And of course Tourism industry, soon he will open "GlampZ" or glamorous camping at Zoomanity in partnership with Eunina Mañgio. He will create another legacy as he expands his business by establishing a 3-in-1 masterpiece called "Galleries of the World" in partnership with Pacific Concrete Product Inc. and WCL Solution Inc., which showcases the Wax Muzeum, La Galleria and FunZ.